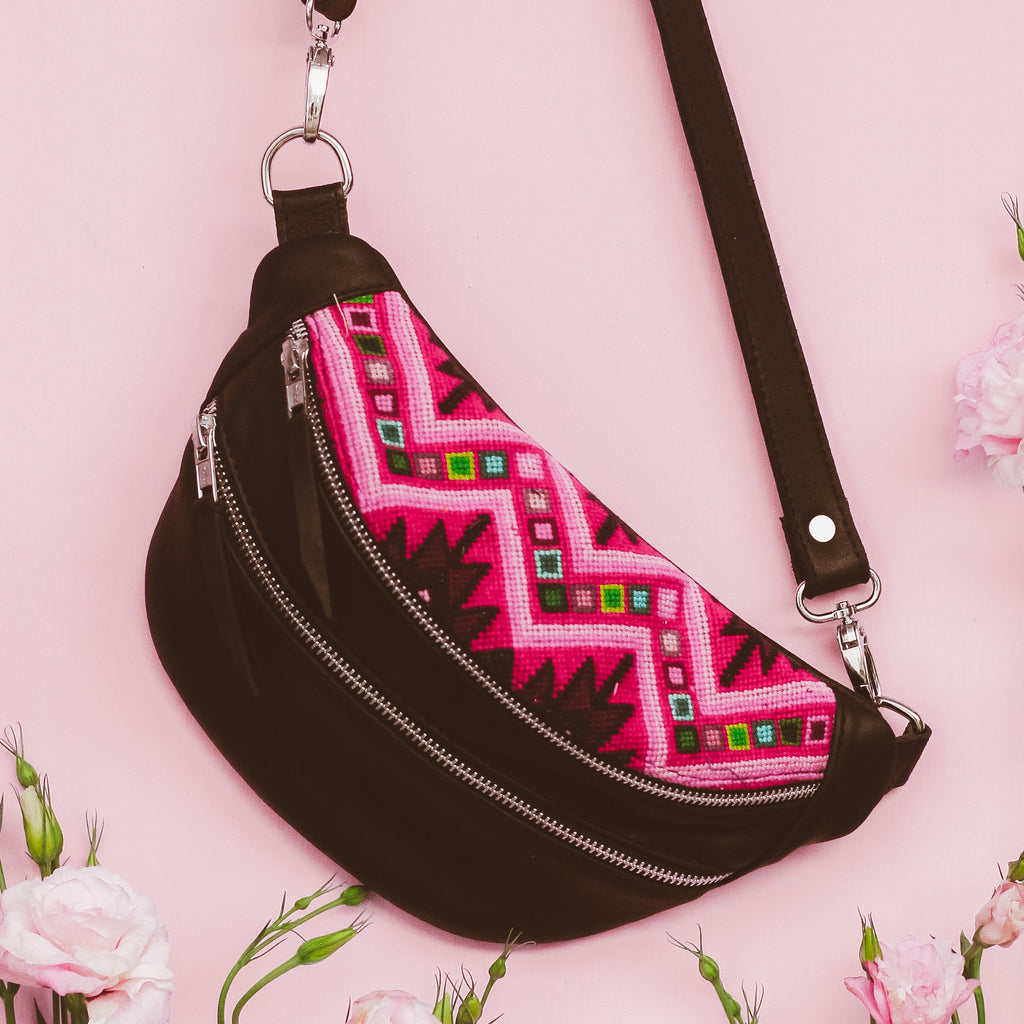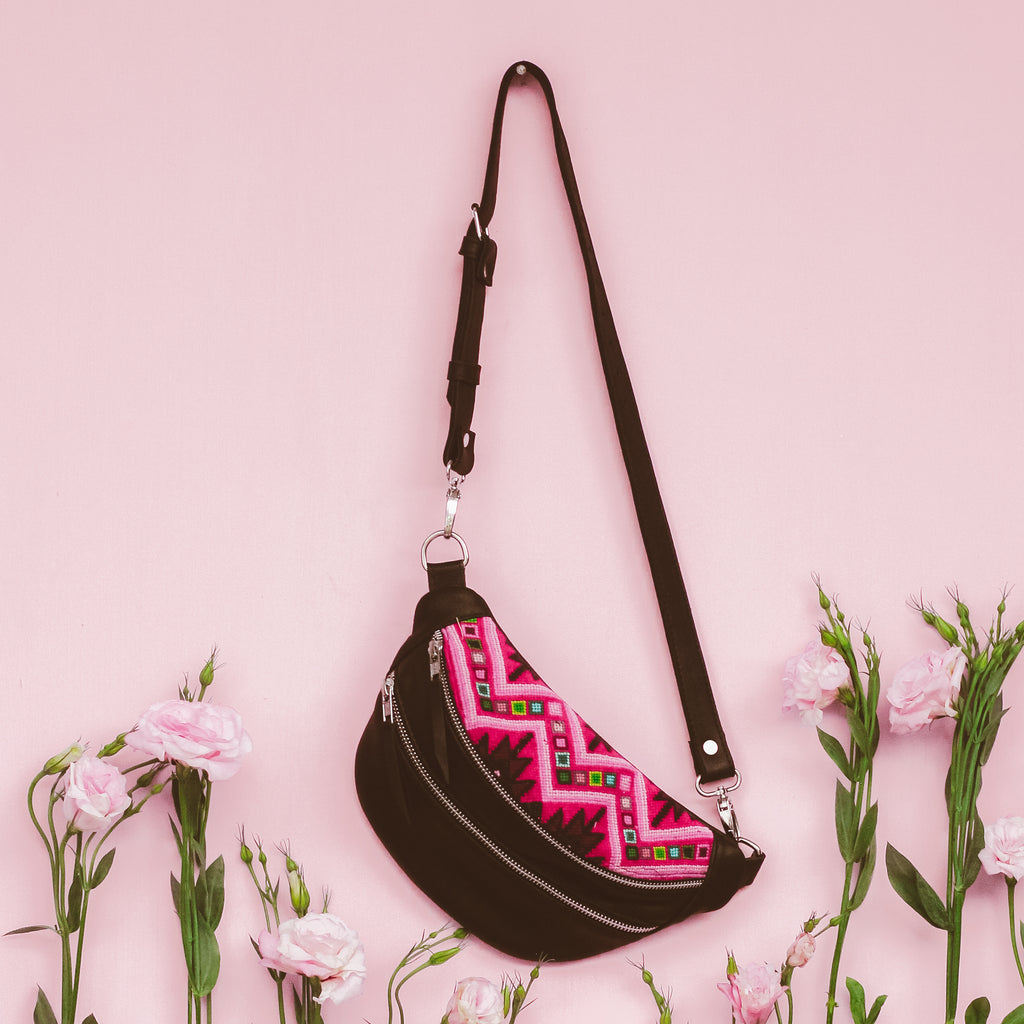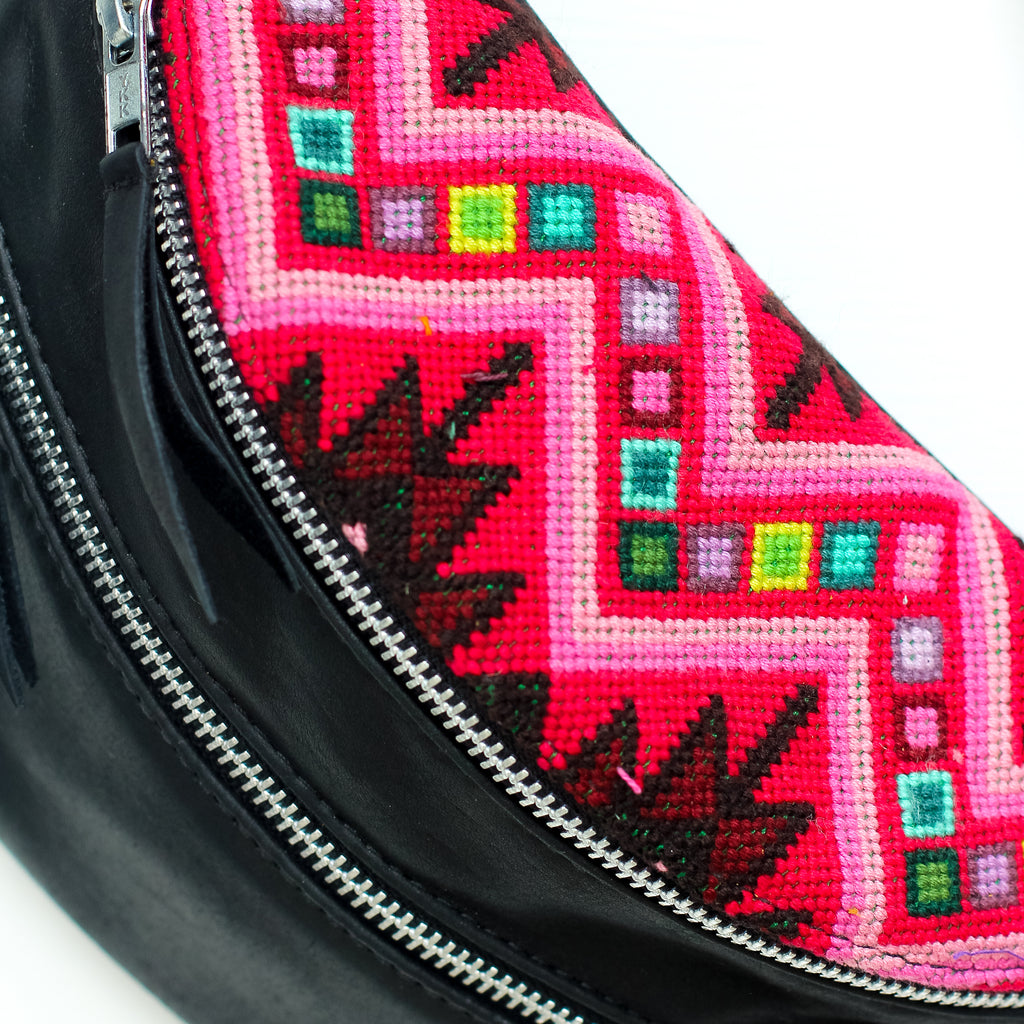 Newly Woven Sling Bag Black - Fuschia
$75.00
$158.00
Product Details:

Our Harmony Sling Bag is artisanally made with top-grain leather and a newly woven panel from the village of Quiejel, Guatemala. The eye-catching colors and intricate pattern of the textile body was originally created on a back-strap loom by a female weaver. This huipil was made by a group of women in Quiejel, Chichicastenango and has deep-rooted cultural significance.
This sling bag was crafted by our artisan partner Don Vicente and Ofelia in a small home workshop.
Features: 
Unique textile and leather combination, two front zippers. 
Includes adjustable and removable matching leather strap.
Bag comes with a multi-color dust-bag and information card about the artisan your purchase supports. 
One-of-a-kind:
No two bags are the same! Hiptipico prides itself on uniqueness and authenticity. Every Hiptipico product is 100% handmade and has the human touch of the weaver and maker in each stitch. This makes our products uniquely charming and distinct from factory-made accessories. No two are exactly the same and imperfections are to be expected and appreciated. 
Community Impact: 
Our new embroidered bags are part of our Woven Collection and support female weavers that don't have access to markets! This specific collection was created so you know exactly the female weaver behind your products. Every item in this collection was hand-embroidered or hand-woven by our female artisan partners [not the market]. Purchasing authentic textiles directly from female cooperatives allows us to have a full understanding of the entire supply chain and offer truly honest production. 
Dimensions
H 5'' x W 10'' 
Adjustable Strap
18'' - 36'' long x 1'' wide
ORIGIN: QUIEJEL, QUICHÉ
ETHNICITY: MAYA K'ICHÉ'

The women in the Quiejel cooperative joined together to establish a formal weaving cooperative to better support their families and community and to preserve their indigenous culture.Yolanda, the Quiejel group leader is one of the most entrepreneurial artisan partners we have! She leads this group of women in a remote village on the outskirts of Chichicastenango to develop new and innovative designs ready for export. Yolanda is a master weaver and has created many textiles for both our camera straps and bags. She specializes in an intricate hand-woven technique that is being lost amongst some of the indigenous communities. Yolanda is the creator of many of the designs in our woven collection and she created them with you in mind.