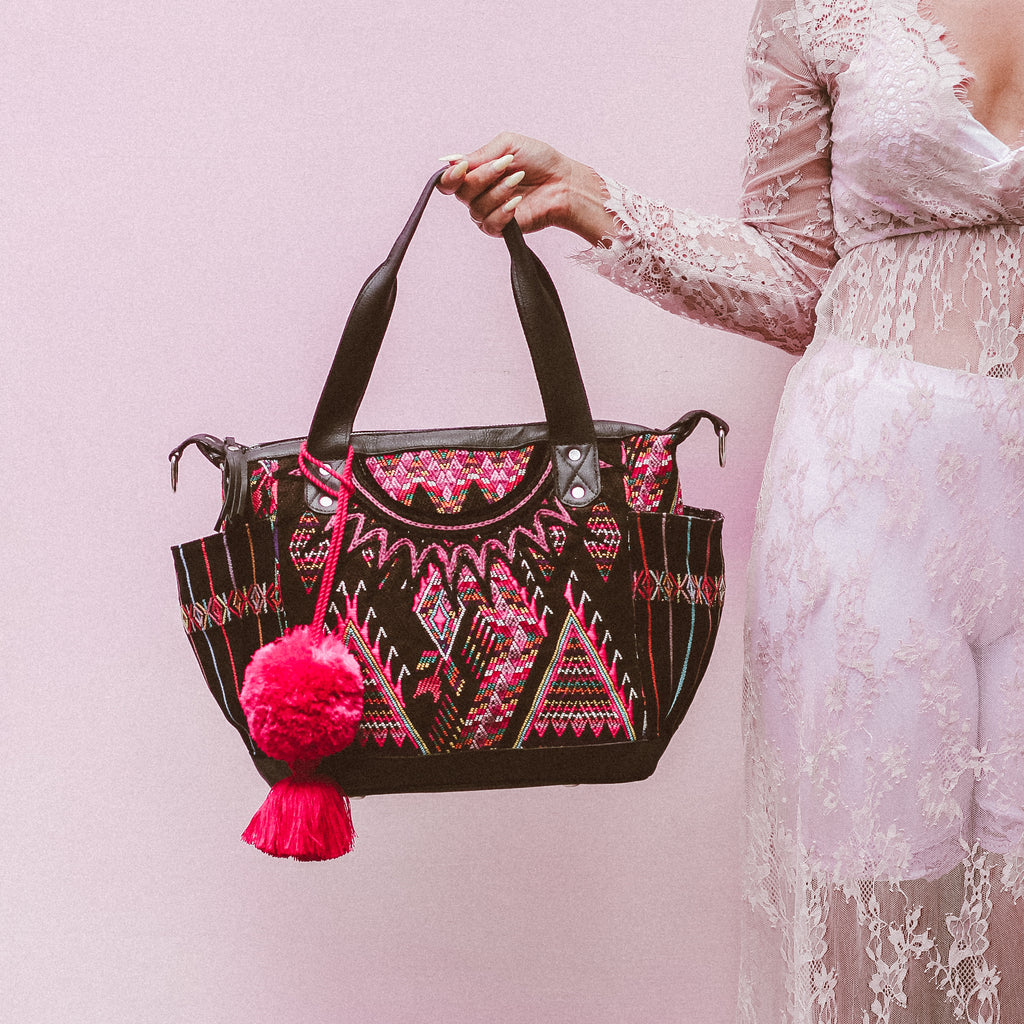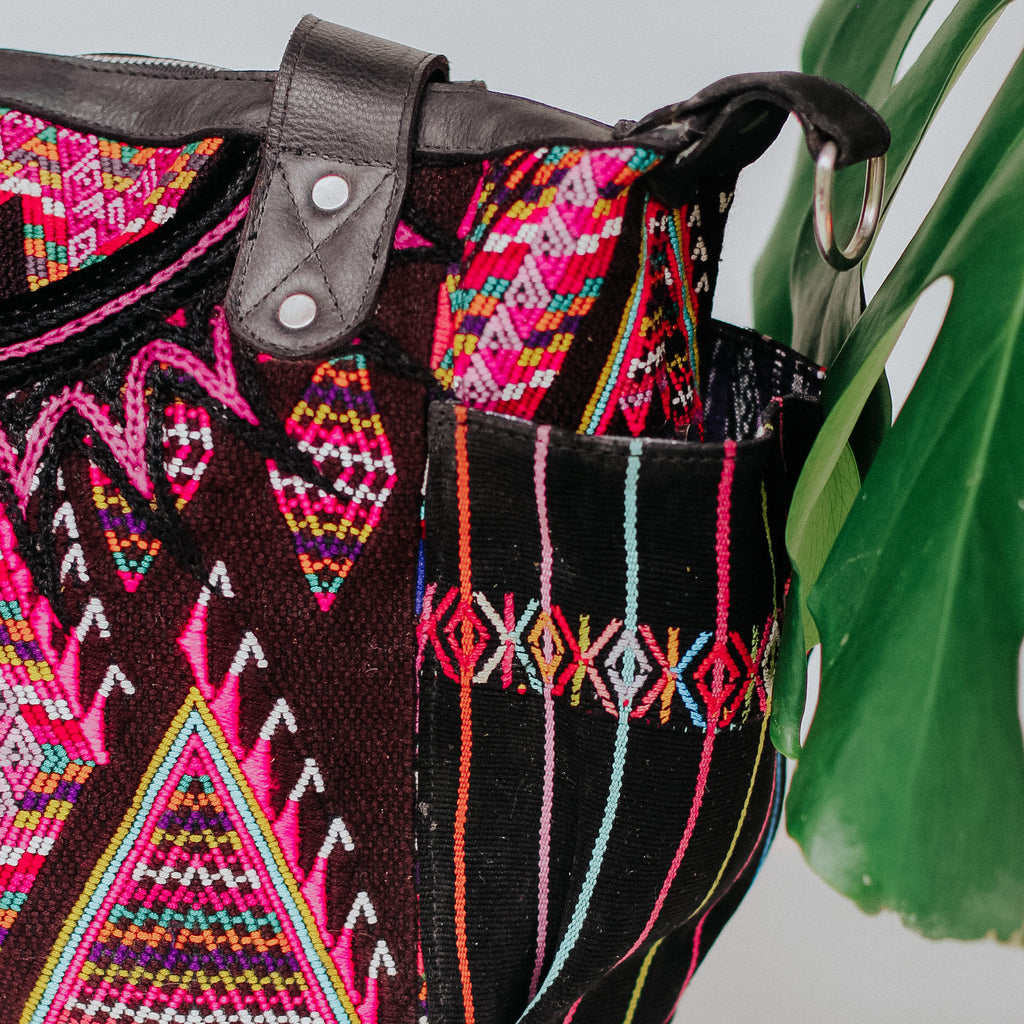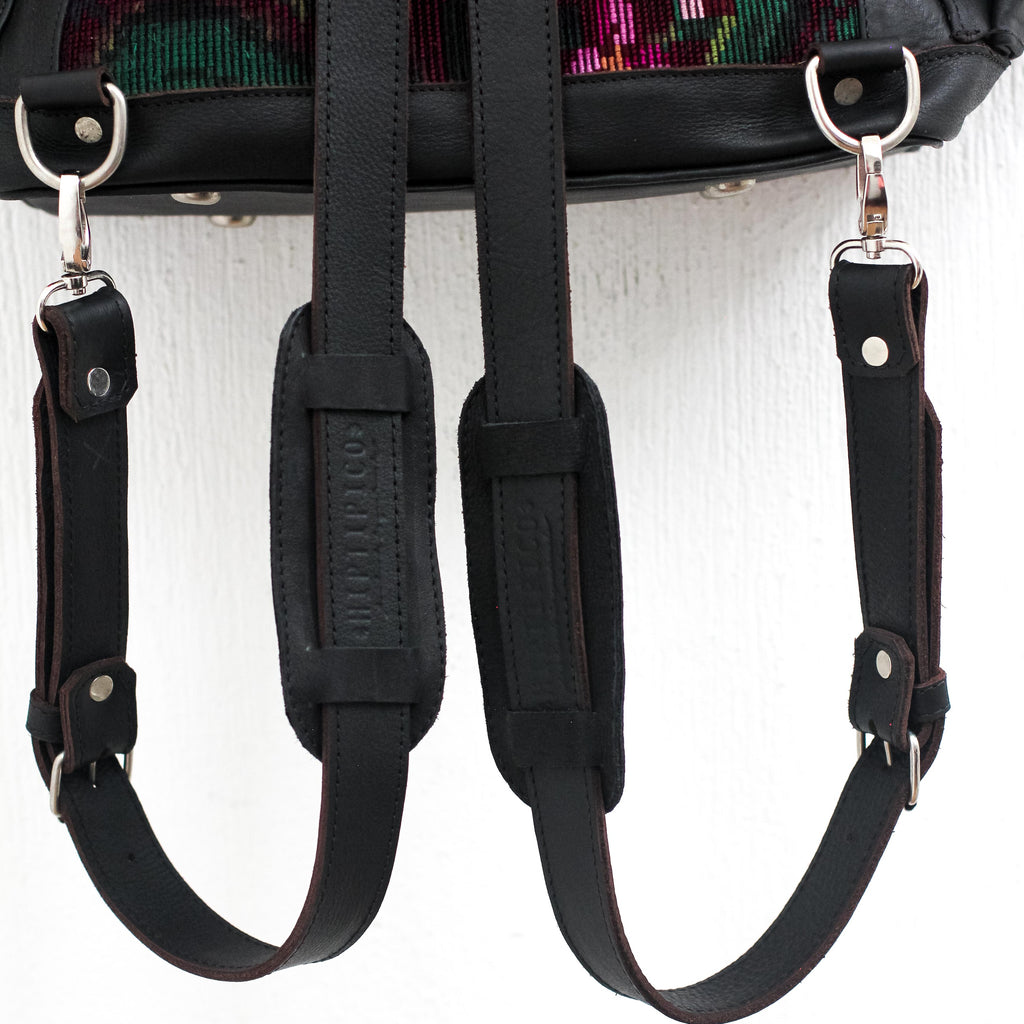 Harmony Convertible Bag Medium - HM14 Aithusa
$298.00
$328.00
*This Bag is part of our Dragoness Collection which features purple Corte interior linings, textile pockets from Zunil, and purple/magenta Poms. These bags represent femininity, Elegance, and Strength.
Product Details:
Our Harmony Convertible Bag is carefully crafted with top-grain leather, the most common part of the hide. This leather is sanded down and imprinted with an artificial grain to give a perfectly uniform stain. This sustainable leather handbag is a smooth color, soft, slouchy and extremely lightweight. 
Created by our artisan partner Don Vicente and Ofelia in a small home workshop.
Features: 
Convertible style with removable straps for a comfortable wear three different ways!
Includes matching leather cross body strap and a pair of backpack straps.
Additional storage at neckline, one interior zipper pocket, two interior open pockets, one exterior zipper pocket. 
Bag comes with a unique pom pom, multi-color dust-bag and information card about the artisan your purchase supports. 
Pairs perfectly with any of our

 

embroidered straps!
One-of-a-kind:
No two bags are the same! Hiptipico prides itself on uniqueness and authenticity. Every Hiptipico product is 100% handmade and has the human touch of the weaver and maker in each stitch. This makes our products uniquely charming and distinct from factory-made accessories. No two are exactly the same and imperfections are to be expected and appreciated. 
Community Impact: 
Hiptipico leather bags are crafted and designed by local artisans in small home workshops. These artisanal workshops are indigenous-owned and purchasing items with these vendors supports a small local business, motivates local entrepreneurial spirits and stimulates the local economy.
Hiptipico bags are crafted using sustainable leather. We are conscious to source from leather providers that have sustainable practices and view leather as a byproduct of the meat industry. This prevents future waste and utilizes all parts of the animal. 
Dimensions
H 11", W 15", D 5"
ORIGIN: MOMOSTENANGO, TOTONICAPÁN
ETHNICITY: MAYA K'ICHÉ'

Don Vicente and his family have a quaint home workshop and local storefront in Panajachel. He comes from a family of rural sheep farmers and at a young age, he moved to Pana to start his own business producing a more extensive line of artisan goods using high quality materials and genuine leather. Over the years, he and his wife Ofelia have designed and perfectly curated a collection with unbeatable craftsmanship. They are a passionate family dedicated to incorporating the authentic indigenous culture into their work and passing these artisanal techniques down to their children. Now his son is the manager of their storefront and their daughters help with client relations which includes collaborating with us! We love being able to work alongside the next generation and create beautiful designs in teamwork with Don Vicente and his family!